Rosemary Beach Real Estate
Paradise Found.
People often travel to the far corners of the earth in their search for paradise, only to come up empty-handed. In reality, it's a lot closer than most people think. Pristine beaches made up of the brightest of white sands. Refreshing breezes blowing off the waters of the Gulf of Mexico. The peace and tranquility of gently lapping surf, singing gulls and sandpipers. These are things that have been quietly awaiting discovery in a section of Florida's panhandle.
Rosemary Beach® is an unincorporated planned community in Walton County, Florida, on the beach side road Scenic Highway 30A. The town was founded in 1995, is approximately 105 acres and, upon completion, included more than 400 home sites and a mixed-use town center with shops, restaurants, and activities.
Specifically, Rosemary Beach® is modeled after the architectural influences of the Dutch West Indies, Bermuda, New Orleans, Charleston, and St. Augustine, giving it a Pan-Caribbean flavor that allows houses and civic buildings to remain lively in color and design while still an integral part of the town fabric itself. Some of our favorite qualities of this new-found paradise include the mild year-round temperatures, stretches of spectacular beaches free from crowds, aesthetically-pleasing architecture, the award-winning town layout, the quaint town center, luxurious amenities such as tennis courts, pools, dune beach walkovers, and the abundance of green areas in which to relax.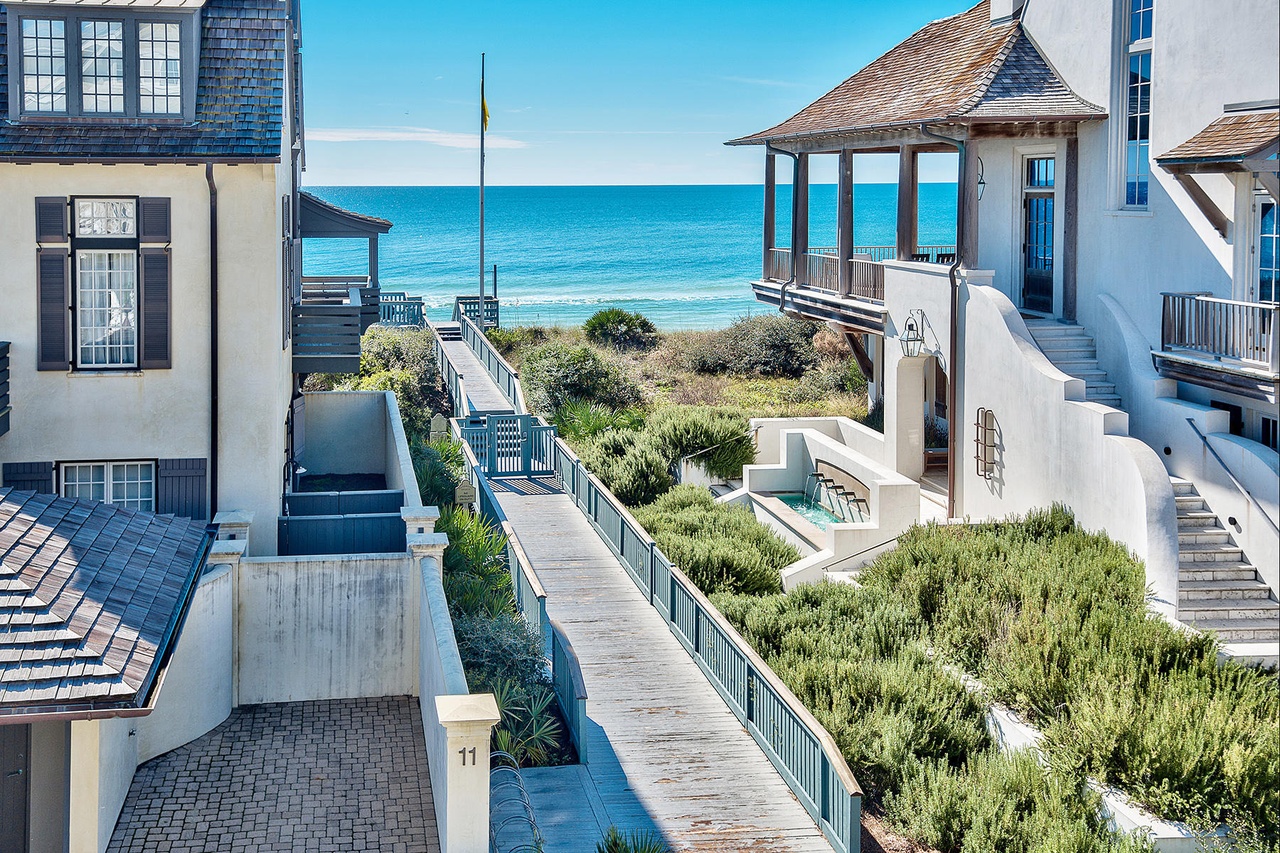 Its own aesthetic slice of paradise, the Rosemary community offers a variety of ways to let loose, have fun, and enjoy. Relax beachside or poolside, under the warmth of the Florida sun with refreshing water to cool off in whenever you please. Visit the spa for a massage or Mani/Pedi. Play a round of golf on the perfectly kept nearby courses. Cast a fishing line into the calm, still waters of a coastal dune lake. Find your way to relax in Rosemary Beach, and leave all of your stresses behind. Activate with the many fitness opportunities throughout the community. Ride bicycles and explore Scenic Highway 30A. Take a jog on the Fitness Path that winds throughout the community, or take a class at the Fitness Center. Play a game of tennis with friends or family on the courts of our Professional Racquet Club.
However you would like to stay active, you can do it in this lively community. Experience the merchants of Rosemary Beach® with the most unique shopping experiences and delicious restaurants in area. Explore independent merchants that offer charming toys, elegant accessories, and fashionable jewelry… then wind down at one of the neighborhood's restaurants that offer everything from completely casual food and beverages to the fantastically fine!
Never been to South Walton, FL before? Need a refresher? A smile?
Then check out Linda Miller's HEY FROM 30A video!
Get a simple, comprehensive tour of 30A's various unique luxury neighborhoods. John Sisty, Realtor takes you down Scenic Highway 30A community by community while demonstrating the distinct difference in scenery that sets 30A a step above it's neighbors.